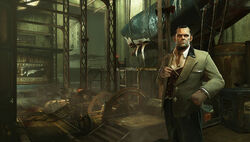 Bundry Rothwild, The Opportunist is a book found in The Knife of Dunwall, during the mission A Captain of Industry.
Transcript
[Excerpt from an investigator's report]
Young Rothwild was never convicted of any of the killings. In all cases, the court ruled that he had acted in self-defense or in the defense of his property.
Not that his property was substantial. The Rothwilds were not a family of means and depended heavily on the charity of the Abby [sic] of the Everyman. The senior Rothwild went down with the whaling ship Huntress when Bundry was only ten years old. His mother Ruth was lost the following year to an industrial accident in the bottle-making factory where she worked.
Rothwild became the sole guardian for his younger brother and managed to support them both by hanging around the harbor, doing odd jobs for whalers who had known his father or others on the Huntress. By then, Bundry Rothwild was already familiar with the club and the knife, and was no stranger to odd occurrences.
Things went from bad to worse for Rothwild when, on his thirteenth birthday, his younger sibling was taken by the Overseers. Allegedly, the boy failed the successive trials and did not return home. Rothwild lacked the funds to pay an investigator and no subsequent hint of his brother's fate has ever been learned.
This latest tragedy to befall Bundry Rothwild instilled in him a view that the world itself was malevolent and hungry for life, especially innocent life. After a time of black mourning, he approached the whaling ship Cutter and began learning the trade from the crew.
Rothwild took to whaling with great success. At sea, he hunted the beasts with a single-minded purpose, and would take extraordinary risks in locating and harpooning his prey. Among the crew, those men he could not beat senseless, he outwitted. In short order, he petitioned the maritime Barrister Arnold Timsh to grant young Rothwild a whaling license, paying the significant fees himself rather than relying on a sponsor for the funds.
The rapid ascent of Bundy [sic] Rothwild had begun.
Location
The book can be found on a desk in the archives room in the Rothwild Slaughterhouse.
Community content is available under
CC-BY-SA
unless otherwise noted.