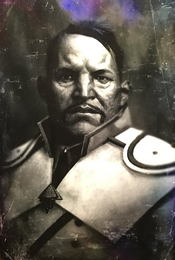 Blood of the Abele House is a book found in Dishonored 2.
Transcript
Chapter Four, Introduction
This chapter will focus on Edithia Abele, steward of Cullero! With sword in hand, she swept the marshes of raiders, sacrificing her life for Serkonos. We will provide newly uncovered insights into the exploits of Rabinos Abele, who built the ornate wooden bridges of Saggunto.
Follow along as we map out the expansions occurring under the Abeles, through which trade routes to the other Isles were established, bringing riches to the nation-state. Even as waves of settlers continued to join Serkonos from Morley, the Abeles balanced growth against Serkonan culture.
In later chapters, we will detail the times of Theodanis Abele, true son of Serkonos. Brave and benevolent, he united the East and West as no other before him. Even the rowdy people of Bastillian swore loyalty to him. One Isle, one Serkonos, united under House Abele! Lastly, we will settle on Luca Abele, who rules today, partaking in feasts and merriments of all kinds, bringing joy to our fair Isle!
Location
This book can be found in two locations:
Community content is available under
CC-BY-SA
unless otherwise noted.