World of Warcraft: Dragonflight - The Loop
Play Sound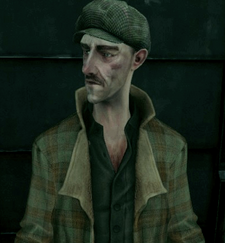 Blake is a minor character in Dishonored during the mission The Flooded District. He is a smuggler and one of a number of survivors located within the Flooded District.
Biography
Described as "an industrious chap", for fifteen years Blake plied his illegal trade along the Wrenhaven River at places such as Eel's Bend, the Flooded District, and the Whale's Tooth. During this time he smuggled whale oil with a group of friends described as being twice as good as himself in a boat they owned.
He managed to keep his smuggling a secret from his sister who always looked up to him, because she thought smugglers were awful people.
Dishonored
During the time when Corvo Attano is trying to escape the Flooded District, Blake has found himself the leader of a group of survivors trapped within a rundown tenement building. With him are his sister, Mace Brimsley and his wife, Magnus, and two others. Trapped by arc pylons set up by the City Watch and tallboys canvassing the area, Blake manages to keep an optimistic yet realistic view.
Creating a Safe Haven
Should Corvo speak with Blake, the Creating a Safe Haven sidequest is activated. Blake has detailed knowledge of the immediate area, and offers Corvo suggestions for a good vantage point over the courtyard in front on the tenement building. He believes his group will be killed when the floodlights are activated and asks Corvo's help to aid in his group's escape from the area.
Trivia
While extremely knowledgeable of the area, Blake mistakenly believes there is only one arc pylon.
Though distrustful of smugglers, Blake's sister changes her mind once she realizes he is one, and she becomes thankful for the rescue.
Should Corvo help them, Blake promises Corvo that he will return the favor one day, and allows Corvo to take some elixirs he had left before the arc pylons were installed, wishing him luck if he decides to leave, but also saying he could wait with them for a few days until his friends arrive with their boat to rescue them.
Gallery