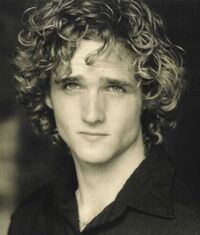 Billy Lush (born November 30, 1981) is an American actor from New Haven, Connecticut.
Lush is also the voice actor that voices the Outsider in Dishonored.
Biography
He graduated from Coral Springs High School in Coral Springs, Florida in 1999. He later attended Florida State University to pursue theatre. He is known for his portrayal of Kevin Donnelly on the NBC drama The Black Donnellys,[1] which was canceled by NBC in April 2007, and LCpl. Harold James Trombley on the 2008 HBO miniseries Generation Kill.[2]
Career
Lush is more well known as playing an undercover police officer Liam Hennessey on The Chicago Code.[3]
He has had small roles on such television series as Cold Case, CSI, and Trauma. Some of his movie roles include, Arc, One Night, and more recently, Straw Dogs, which released in 2011.
Selected Filmography
Straw Dogs (2011)
Norman (2009)
One Night (2006)
Beautiful Dreamer (2006)
Arc (2006)
A Million Miles to Sunshine (2004)
Stateside (2004)
Soleado (2004)
Flights (2002)
Television
CSI: NY (2012)
Awake (2012)
The Glades (2011)
The Chicago Code (2011)
Trauma (2009)
Cold Case (2009)
Terminator: The Sarah Connor Chronicles (2008)
Generation Kill (2008)
The Black Donnellys (2007)
Huff (2006)
Six Feet Under (2005)
ER (2005)
Without a Trace (2005)
Law & Order: Criminal Intent (2003, 2005)
Clubhouse (2005)
Law & Order: Special Victims Unit (2002)
Hack (2002)
External links
References