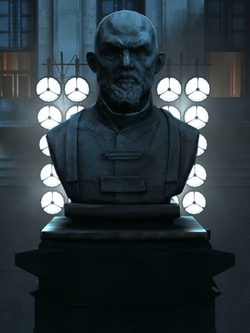 "Behold the face of Holger, who fell in battle this day. It is the picture of outrage at the conditions of this loathsome world."
—John Clavering[1]
Benjamin Holger is a historical figure in Dishonored. He was the founder of the Abbey of the Everyman, becoming the first High Overseer, wrote Reason and Tradition, and was the leader of the Abbey's crusade against worshipers of the Outsider in the region of Whitecliff. Holger was killed in the course of that crusade in 1708, having been stabbed in the eye,[2] and he was succeeded as leader of the Abbey by his disciple John Clavering.
There are many busts and statues of Holger found around Dunwall, and Holger Square is named after him. His ashes and epitaph are on display in the Office of the High Overseer. He appears to be the speaker of the Litany on the White Cliff, though not the scribe.
Warfare Overseers wear masks painstakingly crafted in an abstracted likeness of Benjamin Holger, with the enraged expression meant to symbolize how Holger looked at the moment of his death in the Siege of White Cliff.[1]
Trivia
The bust in front of Thaddeus Campbell's secret chamber has a button on its eye. This could be a reference to Holger being stabbed through the eye with a knife during the Siege of White Cliff.
Gallery
References