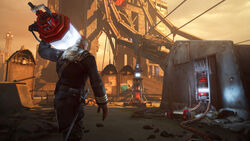 Arc Pylons
are a government-utilized, offensive technology in
Dishonored
. They use
whale oil
to power the pylons, meaning these weapons can be disabled if
Corvo Attano
pulls the oil tank out of the power module. They work similarly to
Walls of Light
but are effective at a distance, electrocuting anything within range that they have not been configured to recognize (for instance, members of the
Watch
or allies to the
Lord Regent
will be safe from the pylons). They can be hacked by Corvo to ignore him and turn against the Watch instead.
The arc pylons are the brainchild of Anton Sokolov. The Arc Pylon was later adapted by Piero Joplin to be much more powerful and have a much greater range. He also adapted it in cooperation with Sokolov to be able to incapacitate all enemies around the pylon instead of killing them. This can be used to great effect during the mission, The Loyalists, to eliminate all of the guards in the mission area while remaining undetected, making the mission much easier to complete.
Gallery
Community content is available under
CC-BY-SA
unless otherwise noted.