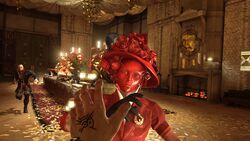 Anonymous Note is a written note found in Dishonored.
Transcript
Whoever you are, I must thank you for sparing at least part of my family. We all have enemies, certainly we Boyle women. In a way, you've done me a favor, so you deserve a reward. I've passed this along from one of my servants through another who knows another, to one of yours. May we never cross paths again.
Location
If Corvo Attano spares at least one of the remaining Boyle sisters during Lady Boyle's Last Party, this note will appear in his quarters in the Hound Pits Pub along with a rune.
Community content is available under
CC-BY-SA
unless otherwise noted.