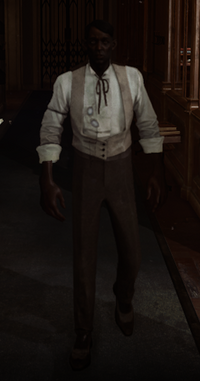 Alistair Fletcher is a minor character in Dishonored 2. He works as a shipwright and owns his own company, Fletcher and Daughter. His greatest accomplishment is the ISS Jessamine Kaldwin, launched in 1852.
Biography
Fletcher is a wealthy man, running the Fletcher and Daughter business, such a renowned company that they were hired to build the ISS Jessamine Kaldwin, named after Empress Emily Kaldwin's late mother, Jessamine Kaldwin. He lives in the Campo Seta Dockyards with his daughter, Philly, who is also a shipwright. There, in his combined office and residence, he designs and builds ships, a passion as well as a job. During the events of Dishonored 2, most of his home is blocked off due to the turbulent occurrences across the Empire of the Isles.
Fletcher was in Dunwall for the launch of the ISS Jessamine Kaldwin, but returned to Karnaca shortly afterwards. His cousin, Rebecca Fletcher, lives in Dunwall, and sent him a letter expressing her sadness over the unpredictable future of the ship, currently sitting in Dunwall Harbor.
Dishonored 2
During the mission Edge of the World, Fletcher is in his home at the Campo Seta Dockyards. His home contains models of whaling trawlers, a large, framed copy of the blueprints of the ISS Jessamine Kaldwin and two paintings of its launch, mementos of his proudest moments. If approached by Emily or Corvo Attano, Fletcher will warn the protagonist to leave his house, and will flee if ignored.
Trivia
As the windows are the only way in and out of the Fletcher's house during the mission Edge of the World, Fletcher cannot flee far, nor alert others.
Gallery
Community content is available under
CC-BY-SA
unless otherwise noted.