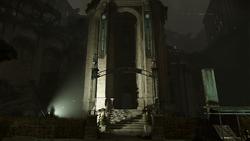 The Albarca Baths is a disused bath establishment in the Northern Campo Seta District, now converted into an underground fight club. Billie Lurk visits it during the mission One Last Fight.
Layout
Upon entering through the front door, the main passageway continues straight, down some steps to the main arena. To the right is a locked door leading to a bar and cards table. This room is also the primary source of the plagued spirit drink used by the Eyeless Gang. The door at the far end of the room leads to the walkway around the main arena. The first door off the side of this arena leads to a small workshop where the bone charm Agility has been created as a reward for beating the Brute.[1] The second leads to a storage area, at the far end of which is a small room which is currently being used to test hook mines.
Off to the left of the main arena are some showers. A hole in the roof allows access to a small storage room. A leaky pipe can be shut off by a crank wheel, opening up another way to access the walkway.
Gallery
References
Community content is available under
CC-BY-SA
unless otherwise noted.