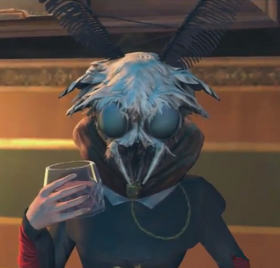 "Come and entertain me!"
—Miss White
Miss Adelle White is a noble and a guest at the Boyle Mansion during Lady Boyle's Last Party, and a source of information to Corvo.
When first encountering Corvo, Miss White stop her coversation with another guest, Ramsey, and ask him to get her a drink. If Corvo complies, she will reveal which Boyle sister is wearing each color. This information can be combined with clues provided by Lord Brisby, the Heart, or diaries upstairs to determine the identity of the true Lady Boyle.
Trivia
Miss White seems to have a prior relationship with Ramsey, likely of a romantic or sexual nature based on Ramsey's remarks.
Gallery